Resultados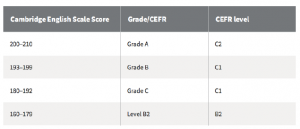 La nota que se obtiene es una media de las 4 partes, basado en la escala de Cambridge.
Como se observa, se aprueba con 180 puntos, y con 200-210 puntos obtienes un C.2!
Al candidato se le dará la nota en cada una de las 4 secciones (Reading, Writing, Listening & Speaking)  además del Use of English, para un mejor entendimiento del examen y la corrección.
Para más información sobre la escala de Cambridge.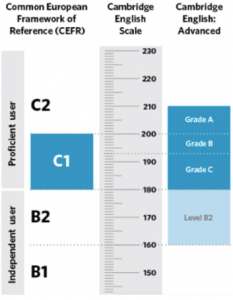 Los resultados de examen a papel tardan en salir en formato online 4-6 semanas, y 2-3 semanas para el formato online.
Para ello hay que registrarse en free online results service y cuando los resultados estén disponibles, el candidato se los podrá descargar de la web en formato .pdf (Statement of Results).
El certificado de papel llega al centro examinador 3 semanas después; es decir, 7-9 semanas después de realizar el formato a papel, y 5-6 semanas después del formato a ordenador.
¿Que es un Statement of Results?
Aquí tienes un ejemplo. En el documento se observa:
la nota para cada 1 de las secciones y del Use of English
tu nota (A=nivel C.2., B, C o D=nivel B.2) final/total
tu nivel CEFR total/final
¿Por qué es importante/interesante tener el Statement of Results online?
Las empresas, universidades o instituciones que quieran contrastar tu certificado y nota obtenida pueden
comprobarlo de forma rápida con tu
Candidate ID y Candidate Secret Number
online
de forma segura.